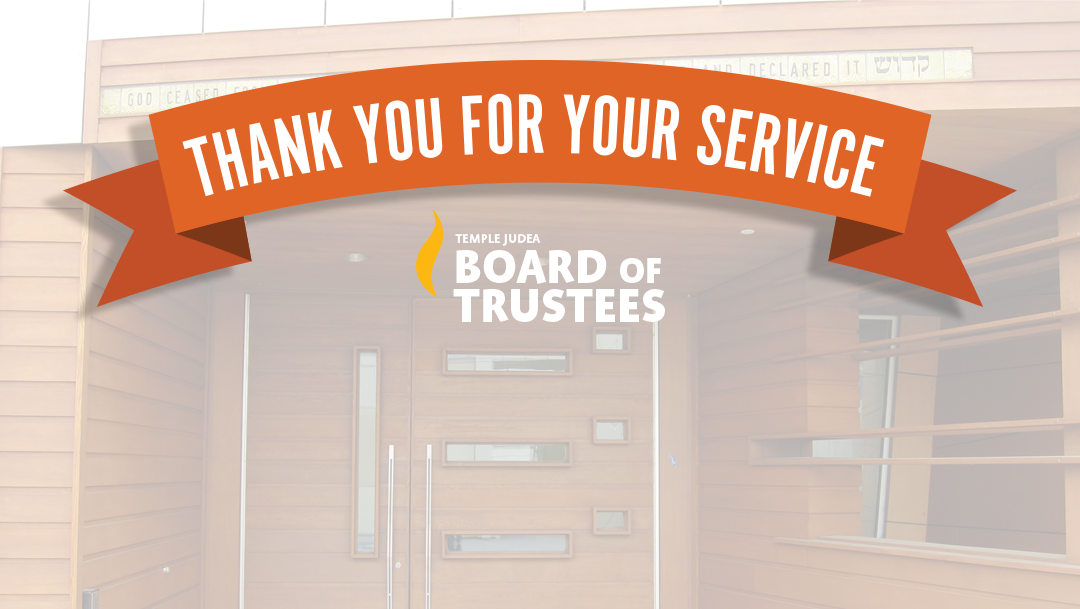 Gratitude in Action: Celebrating our Board of Trustees
11.14.23

|

Stories, Articles

Gratitude isn't just a concept in Judaism; it's a way of life. Gratitude is woven into most Jewish rituals - from saying the motzi to the pursuit of tikkun olam. So, in this season of reflection and appreciation, it seems appropriate to express our heartfelt gratitude for our Board of Trustees, a group of dedicated and hard working lay leaders who play a pivotal role in making Temple Judea such a very special place.

Our Board of Trustees is elected by the entire community. They exemplify the Jewish spirit of gratitude in action -- generously volunteering their time and hearts, and contributing both seen and unseen efforts to enrich our shared experience. Unlike other nonprofit boards, a synagogue board is also a group of community members, so they are inherently and deeply invested in the success of the congregation. Current President Bill Harris leads a Board composed of officers, trustees, and auxiliary leaders, and supported by advisory members including our Rabbis, Cantors, our Director of Engagement, our Director of Facilities, and Past Presidents. Together they are the heartbeat of Temple Judea.

The strength of our community depends on our collective efforts and contributions. If this resonates with you, consider putting your thanks into action by becoming more involved! Board meetings, typically held the second Wednesday of the month at 7pm, are open to all Temple members. Reach out via email to our Director of Engagement, Kim Birbrower, at to discuss the ways you can actively participate, share your talents, and help guide the community.

We wouldn't be the dynamic synagogue we are today without the Board's immeasurable commitment, involvement, and invaluable work. So, together, we express our appreciation in English, Hebrew, Yiddish & Ladino – Thank you, todah raba, a dank, merci muncho!