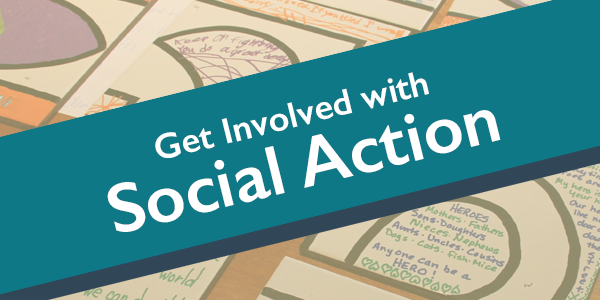 The Social Action committee provides the Temple Judea community with opportunities to practice Tikkun Olam and lend a helping hand in the neighborhood and beyond. We coordinate hands-on activities and work with multiple community partners to offer support to those in need.
Social Action is committed to healing the world through events and projects benefiting our community. Our impact is immediate and ranges from our backyard to across the world. Social Action works within:
our own temple community, when we do projects around campus or support our own congregants and their families.
the San Fernando Valley community, when we donate supplies and cook meals for Hope of the Valley Rescue Mission or bring visitors to the Jewish Home.
the Southern California community, when we provide backpacks full of school supplies to School on Wheels, hold blood drives for the American Red Cross, or fill Thanksgiving boxes for MEND.
the larger Jewish community, when we send books to Chai Lifeline in New York or make comfort objects for Save a Child's Heart in Israel.
the global community, when we participate in activities sponsored by Jewish World Watch and Operation Gratitude.
SOCIAL ACTION UPCOMING MEETINGS (first Wednesday of the month @ 7:30 p.m. via Zoom):
Wednesday, October 6
Wednesday, November 3
Wednesday, December 1

Be active with Social Action
SOCIAL ACTION CALENDAR:
PACK LUNCHES FOR HOPE OF THE VALLEY MISSION - first & third Mondays of the month, drop-off is from 10:00 a.m. 11:00 a.m. at the Temple parking lot unless otherwise noted.
In less than one year, this program has donated more than 10,000 lunches to people in need!
Monday, October 18
Monday, November 1
Monday, November 15
Each bagged lunch should contain:
sandwich in a ziploc bag

small bottle of water and/or juice (juice boxes are preferred)

bag of chips

piece of fruit (no apples please; "cuties" or similar small oranges are a good choice

cookies, granola bar, etc. (optional)

napkin

additional items like small hand sanitizer, toothbrush, mask, or other hygiene products are optional but welcomed

PLEASE WEAR GLOVES AND MASK WHILE PREPARING MEALS.

Sandwiches can be peanut butter and jelly, or lunch meat (turkey, ham, etc.) and cheese with mayo/mustard.

Please label bags with what type of sandwich it contains.

Please use individually wrapped chips, cookies, etc. -- NO HOMEMADE ITEMS PLEASE!

Feel free to write messages of hope or drawings on the bags or include inside.
Additional details:
Lunches are collected between 10:00 - 11:00 am on the first and third Mondays of the month.

- Lunches are typically collected in the temple parking lot. Please keep an eye on the e-news for alternate collection sites, especially during the holidays.

You can either make your lunches early that morning (just like when the kids were in school!) or you can make them the evening before and refrigerate them overnight.

This is not an expensive undertaking! Generally the components cost about $1 - $3 per lunch. We are happy to take any number of lunches.
Click HERE to download the above instructions.
Any questions? Contact Jennifer Lutzky at or Ellen Opell at or 818-345-0412.
---
Other upcoming activities include:
Sunday, October 24: Coat/Clothing Collection Event, Temple parking lot
November 8 - December 15: Jewish Federation Chanukah Toy Drive (virtual)

Sunday, November 21: 10:00 a.m. - 12:00 noon, Thanksgiving Market, social hall

Sunday, December 12, Blood Drive
Stay tuned for details!
---
OTHER ONGOING ACTIVITIES:
PEOPLE OF THE YARN
First Sunday of the Month, 10:00 a.m. - noon -- in-person meetings to resume October 3!!!
Social Action's knit and crochet group meets monthly to make items for people in need, in support of the Temple's homelessness and other community outreach initiatives. We are open to all temple members, family, and friends -- anyone who wants to engage in a bit of creative tikkun olam. Beginners are welcome! While our in-person meetings are temporarily on hold, our activity continues! We have donated more than 150 hats, scarves, and ear-warmers to Hope of the Valley in our first year-and-a-half and have set a goal of 100 more this year!
Please contact Jane Nichol at
BACKPACK PACKING FOR SCHOOL ON WHEELS:
Every year, Social Action packs more than 500 backpacks for School on Wheels in August! This event has been going on for more than 20 years and has supplied backpacks to more than 10,000 students experiencing homelessness! If you are interested in supporting this program, please visit: https://portal.templejudea.com/form/sa-backpacks-2021.html. ($10 buys 1 backpack and the supplies to fill it.)
SERVING BBQ LUNCHES AT HOPE OF THE VALLEY MISSION
(temporarily on hold)
This activity takes place at a church location in Van Nuys. A volunteer "captain" gathers a group of 8-10 adults (plus kids are welcome) and purchases food that morning at Smart & Final. The volunteer group prepares the bbq lunch on site at the church, serves the attendees their meal, and cleans up. The costs is approximately $330 for food, $150 for security. We would appreciate your generosity, but cost should not be a barrier to participation in this activity -- if you do not want to make that kind of donation, we can match you with funding.
Please contact Michael Opell at .
VOLUNTEERING AT MEND
(temporarily on hold)
This activity takes place at the MEND center in Pacoima. Volunteers must be a minimum age of 11 and will work either in the food bank, farmer's market, or clothing department on site in their building. Please wear closed-toe shoes. There is no cost associated with this project.
Please contact Jay Schlanger at .
---
The Temple Judea Green Team is a joint effort of the Social Action and Judeans for Justice committees. Please see the Judeans for Justice webpage for more information or contact Jane Nichol at .
---
Interested in pursuing social action on your own? Need some ideas for a Mitzvah project? Here is a list of some of our community partners.
Have questions? Want to make a suggestion? Please get in touch! You can email Jennifer Lutzky, Social Action chair, at or by clicking here: Contact Social Action
Don't forget to come to our monthly committee meetings, and help us plan these great monthly events -- or submit your own ideas! We meet the first Wednesday of the month at 7:30pm, usually in the library or music room upstairs at the temple. Hope to see you there!