Be active with Social Action
UPCOMING ACTIVITIES
9/24/2020 - Food drive for SOVA and clothing drive for Hope of the Valley
Drop off non-perishable canned and boxed items and gently-used clothing at the Temple from 4:00 p.m. to 6:00 p.m.
10/2/2020 - Sack lunches for Hope of the Valley
Pack and donate lunches for people experiencing homelessness); contact
10/7/2020 - Social Action Meeting, 7:30 p.m. via Zoom
now - 10/7/2020 - California Clean Air Day / Temple Judea
Pledge to support a greener and more just California as part of the Temple Judea community: https://cleanairday.org/individual-pledge/templejudea/
11/4/2020 - Social Action Meeting, 7:30 p.m. via Zoom
mid-November (date TBD) - Thanksgiving Market, details to follow
12/3/2020 - Social Action Meeting, 7:30 p.m. via Zoom
---
The high holiday season, a period of reflection and personal change, is a good time to think about the environment. Being "green" embodies our Jewish values, which teach us to preserve life, be good stewards of the earth, avoid wasteful destruction, and act in the interest of future generations. This year, we encourage you to take these easy steps for the environment as part of your teshuva:
Take the Clean Air Day Pledge: Using the special Temple Judea link, commit to actions that reduce pollution and your carbon footprint. These changes will improve the air we breathe and combat global warming.
https://cleanairday.org/individual-pledge/templejudea/ Please check "Share my name and email with Temple Judea" so we can track participation.

Engage in "Reverse Tashlich": As you "cast your sins" into the water this year, pick up any trash you may see. Even if you aren't at the beach, you can protect our beautiful coastline and marine health, as much of the trash in our neighborhoods eventually makes its way to the ocean.

Become an Environmental Voter: Pledge to vote in support of environmental issues and candidates who will make our communities, state, and country more green and just: https://www.environmentalvoter.org/

Join Dayenu, a new national Jewish organization dedicated to confronting the climate crisis: https://dayenu.org/

For our youth community: join the Jewish Youth Climate Movement. Founded by Hazon in 2020, this coalition is dedicated to empowering teens to mitigate climate change. https://www.jewishyouthclimatemovement.org/
Please see below for information on Temple Judea's Green Team.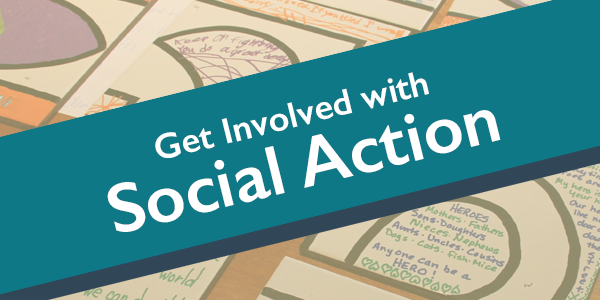 The Social Action committee provides the Temple Judea community with opportunities to practice Tikkun Olam and lend a helping hand in the neighborhood and beyond. We coordinate hands-on activities and work with multiple community partners to offer support to those in need.
Social Action is committed to healing the world through events and projects benefiting our community. Our impact is immediate and ranges from our backyard to across the world.Social Action works within:
our own temple community, when we do projects around campus or support our own congregants and their families.
the San Fernando Valley community, when we donate supplies and cook meals for Hope of the Valley Rescue Mission or bring visitors to the Jewish Home.
the Southern California community, when we provide backpacks full of school supplies to School on Wheels, hold blood drives for the American Red Cross, or fill Thanksgiving boxes for MEND.
the larger Jewish community, when we send books to Chai Lifeline in New York or make comfort objects for Save a Child's Heart in Israel.
the global community, when we participate in activities sponsored by Jewish World Watch and Operation Gratitude.

ONGOING ACTIVITIES:
BACKPACK PACKING FOR SCHOOL ON WHEELS:
Every year, Social Action packs more than 500 backpacks for School on Wheels in August! This event has been going on for more than 20 years and has supplied backpacks to more than 10,000 students experiencing homelessness! If you are interested in supporting this program, please visit: https://portal.templejudea.com/form/backpacks2020.
 ($10 buys 1 backpack and the supplies to fill it.)
SERVING BBQ LUNCHES AT HOPE OF THE VALLEY MISSION
(temporarily on hold)
This activity takes place at a church location in Van Nuys. A volunteer "captain" gathers a group of 8-10 adults (plus kids are welcome) and purchases food that morning at Smart & Final. The volunteer group prepares the bbq lunch on site at the church, serves the attendees their meal, and cleans up. The costs is approximately $330 for food, $150 for security. We would appreciate your generosity, but cost should not be a barrier to participation in this activity -- if you do not want to make that kind of donation, we can match you with funding.
Please contact Michael Opell at .
VOLUNTEERING AT MEND
(temporarily on hold)
This activity takes place at the MEND center in Pacoima. Volunteers must be a minimum age of 11 and will work either in the food bank, farmer's market, or clothing department on site in their building. Please wear closed-toe shoes. There is no cost associated with this project.
Please contact Jay Schlanger at .
PEOPLE OF THE YARN
(in-person meetings temporarily on hold)
Social Action's knit and crochet group meets monthly to make items for people in need, in support of the Temple's homelessness and other community outreach initiatives. We are open to all temple members, family, and friends -- anyone who wants to engage in a bit of creative tikkun olam. Beginners are welcome! While our in-person meetings are temporarily on hold, our activity continues! We created more than 70 hats, scarves, and earwarmers (in just 6 months) for donation to Hope of the Valley last year. We have set a goal of more than 100 this year!
Please contact Jane Nichol at
---
The Temple Judea Green Team is a joint effort of the Social Action and Judeans for Justice committees. Our goals are to:
Help identify and implement ways for Temple Judea to reduce its environmental impact
Highlight sustainability, conservation, and concern for the environment as Jewish values
Educate temple members about ways they can go green
Engage in community efforts to create a livable planet
Please contact Jane Nichol at .
---
Interested in pursuing social action on your own? Need some ideas for a Mitzvah project? Here is a list of some of our community partners.
Have questions? Want to make a suggestion? Please get in touch! You can email Jennifer Lutzky, Social Action chair, at or by clicking here: Contact Social Action
Don't forget to come to our monthly committee meetings, and help us plan these great monthly events -- or submit your own ideas! We meet the first Wednesday of the month at 7:30pm, usually in the library or music room upstairs at the temple. Hope to see you there!