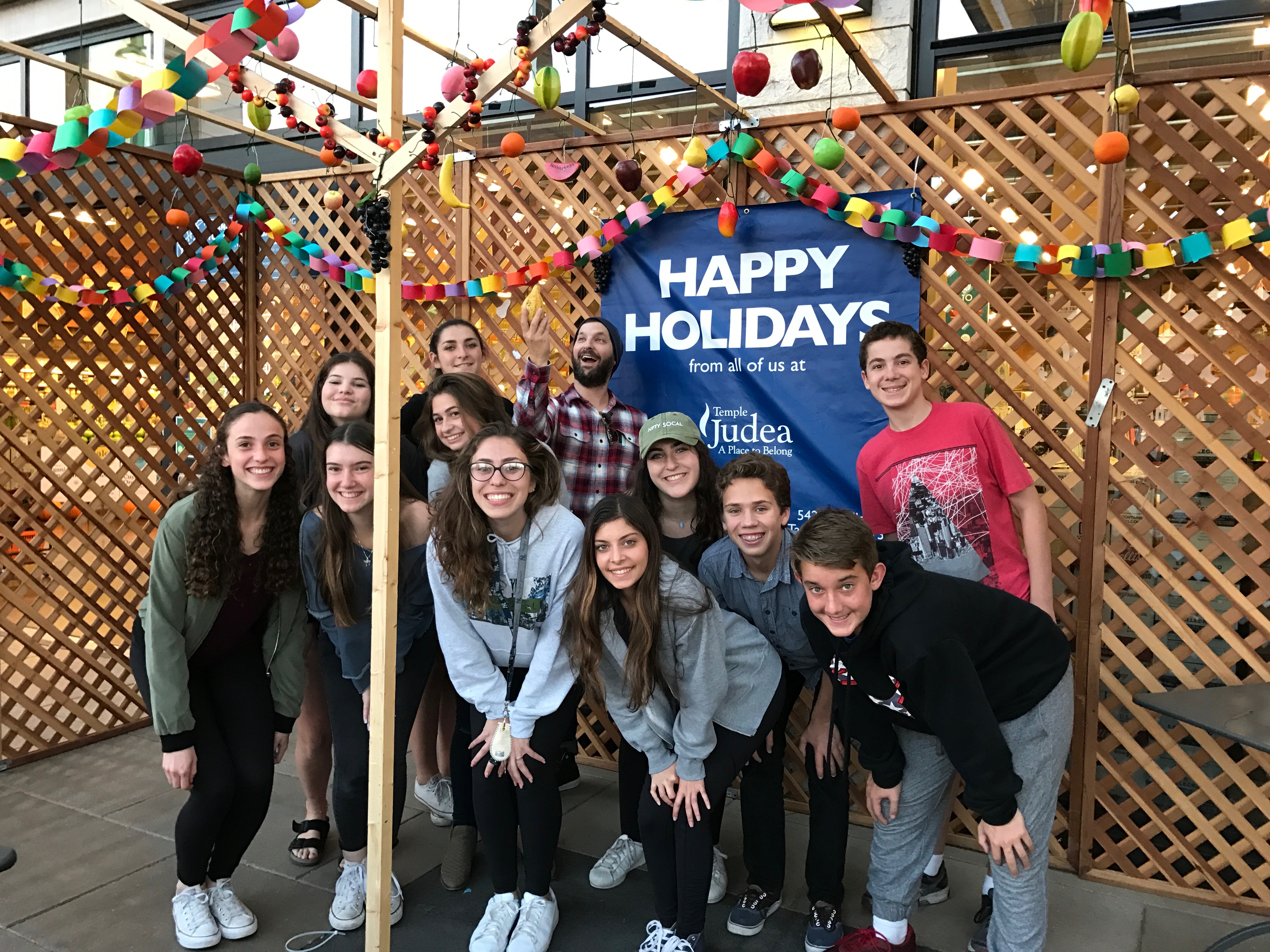 JTJ: Judea Teen Journeys Project

This year we are pleased to offer a catalog of choices for our 7th-12th grade students which we collectively call JTJ: Judea Teen Journeys. The cost to participate in select aspects of the program is $400. This includes as few as one and as many as all of the applicable programs (Applicable programs will be indicated by an asterix *). All other JTJ programs have cost listed below.
See details below for any programs/trips with additional costs. Please note: some options will require an application or audition. All programs will be dependent on enrollment.
7th Grade Tikkun Olam & Learning – Grade 7
One Wednesday afternoon (4:00-6:15pm) and one 5hr Sunday field trip (9:00am-2:00pm) per month. Cost is $1060. (Click here for class dates)
We are partnering with Tzedek America, an organization designed to help Jews actually live by doing Tikkun Olam – and we are incredibly excited to be partnering with them. The format of the class will be as follows. Once a month on Tuesday afternoon, they will study with Rabbis Raff & Rosenstein, and once a month on Sunday morning – they will take a five hour trip (9:00am-2:00pm) around Los Angeles – making our community a better place.
Here are some of the field trips that our students will go on:
Thrift Shopping with a Purpose
Learning about Social Enterprises and Non–Profits by shopping at thrift shops and meeting the people who work at the non-profits headquarters.
Food Justice Tour
Learning about food deserts and food injustices in Los Angeles through the experience, of growing, eating and making food.
Environmental Justice
Environmental justice 101 presentation and an interactive tour of past victories, current campaigns, and an overall tour of community resistance and organizing.
Understanding Homelessness
A gentrification tour of DTLA and a walking tour of skid row ending in a volunteer project at one of the missions.
Supporting People with Special Needs
Visit various non-profits and social enterprises that work with children and adults with varying special needs. End the day by working alongside special needs adults while helping them sell their products on Venice Beach.
Gang Life and the Prison System
Meet current and former gang members, learn what is being done to get gang members more productive and learn about the prison system in LA
Immigration and Refugees, A Deeper Look
Eat at a restaurant owned by refugees (cost of lunch not included) and hear the owner's story, meet DACA recipients and meet organizations doing work to help the immigrants and refugees in our country, and our students will meet and have an encounter with an ICE agent.
*Cantors in Training - Grades 9-12
Meets once a month TBD based on participants' schedules.
Post Bar/Bat Mitzvah teens who sing: Our Cantors In Training program is taking off. Share your musical talent and vocal skill with the Temple Judea community for the High Holy Days and throughout the year. Be a part of JTJ while doing what you love to do. Coaching on Jewish repertoire by the Cantors will enhance your performance abilities and deepen your Jewish connection. Audition to be a part of this core of our Temple Judea community, which meets once a month (TBD based on participants' schedules) and performs at select opportunities (also TBD based on participation and schedules). Click here to request an audition.
*Confirmation – Grade 10 (or any 11th and 12th graders who have not yet been confirmed)
Meets Wednesdays from 5:45-8:00pm twice a month with additional meetings in May. (Click here for class dates)

If Bar/Bat Mitzvah is the affirmation of a community that a person is ready to be an adult in the Jewish community, Confirmation is the affirmation of an adult (teenager) that s/he is ready to be an adult! More importantly (and practically) Confirmation is a fabulous opportunity for students to spend time with the senior clergy staff. We engage in serious learning; we engage in thoughtful discussion and we also manage to have fun.
Confirmation service will take place Friday, May 29th, 2020 at 6:15PM.
JSTY – Grades 9-12
Each event costs between $10-$30 depending on the event.

Participants create and run their own programs, hold leadership positions, and have a greater impact on our Temple community. Organized by an elected Board and guided by our Director of Youth and Camping, teens create outings in the community and programs with other synagogues. Click HERE for more information!!!
Life of a Jewish Teen with Richard Weintraub – Grades 8-9
Meets Wednesdays from 4:00-6:15pm twice a month. Cost is $780. (Click here for class dates)
This class is a practical and realistic exploration of issues relevant to teens, a psycho-spiritual approach to life designed to enhance self-esteem, self-worth and self-love, and a participatory class design to build openness, honestly and trust. This class will help you reveal your authentic self, better explore your current high school and future college and career choices, deal with issues with parents and siblings, discuss intimate relationships, fears and finding your purpose in life. It will definitely be a unique classroom environment and experience. Click here to read testimonials from former students of Richard to hear why this is the best class your teen will ever take.
Love, Sex, & Relationship Retreat – Grades 9-12
November 15th-17th at AJU
There will be a cost of $315 to participate on this trip. This price includes meals and lodging. (Cost will be subsidized by $150 from Temple Judea)

Join Dr. Charles and Amy Miron, certified Masters and Johnson sexologists for a weekend at camp. Students will learn about sexual language, peer pressure, sexual harassment, intimacy, caring, homosexuality, birth control and STDs, and what it means to be in a loving, caring relationship – all from a Jewish perspective. Please click HERE to register, and please click HERE for more information.
Madrichim (Classroom Assistant Program) - Grades 9-12
Choose to volunteer in a classroom on either Sunday mornings from 9:00am-12:00pm (Judaica and Hebrew), OR on Tuesday afternoons from 3:45-6:45pm (Judaica and Hebrew). We are happy to offer your teen community service hours for their time!
In addition to their classroom time, all teens engaged in this program commit to "madrichim training," with our madrichim coordinator.
Please click here to fill out an application.
*Post-Confirmation – Grades 11 and 12
Meets Wednesdays from 5:45-8:00pm twice a month. (Click here for class dates)
Judaism is a religion that celebrates and honors life. This class will focus on finding a balance to the pressures put on a teen as they transition from high school to life beyond. With the beginning of college, young people are placed in an often overwhelming series of transitions as they learn to live independently, balance social life and rigorous school work, begin to think of their career path, and create new relationships and communities often in a new city or even state. This is a must take course for any Jewish pre-college student!
RAC L'Taken trip to Washington D.C. – Grades 9-12
Weekend retreat to D.C., February 21st-24th, 2020.
There is a $100 deposit to participate.
This is a weekend trip to the Religious Action Center in Washington D.C. The RAC (as it is called) is the hub of Jewish values, and the L'Taken seminar gives over 2,000 Reform Jewish high school students per year a chance to impact our country as they share their views on social justice topics with decision makers on Capitol Hill. The program is designed to both expose you to a variety of public policy issues and explore the Jewish values that inform the Reform Movement's advocacy around these issues. On Friday and Saturday of the trip, you will have the opportunity to attend programs on a range of topics, including Israel, the environment, reproductive rights, LGBTQ civil rights, church/state separation, international relations and more! That Sunday, with the support of your chaperones and the RAC Staff, you will pick a specific topic and write a speech to deliver on Capitol Hill on Monday. Of course, we will also take advantage of the vast opportunities available in our nation's Capital by visiting the National Holocaust Memorial Museum and the Smithsonian National Mall and celebrate Havdallah at the Jefferson Memorial. And, all the while, you will have the chance to meet and mingle with Reform Jews from across the United States, all of whom are in D.C. for the same reason that you are—to pursue Tikkun Olam. While this program sounds amazing it also sounds expensive. And it is. But, thanks to the generosity of a member of our congregation, whose daughter attended and found it so moving that it changed her life, we are able to subsidize this to the point that no child will not be able to attend for financial reasons. We believe this program is that important, and we want every child to be able to do it. Please click HERE for more information about the trip.