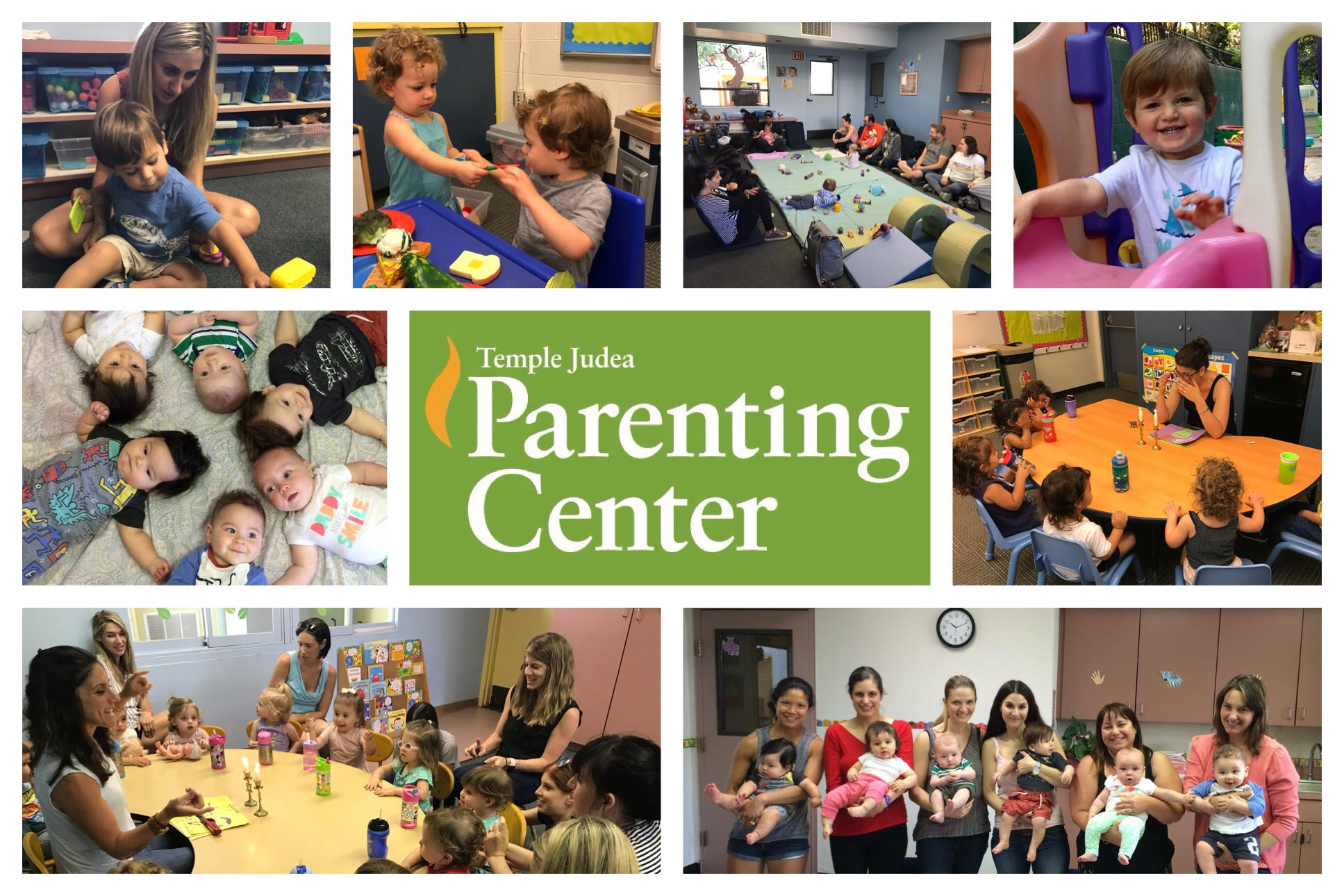 Temple Judea's Parenting Center is a warm, nurturing, and supportive learning environment designed to provide a secure foundation in early childhood development. Parents and children attend classes together in order to create a unique bonding experience within our play-based program. Our highly experienced early childhood educators help children navigate developmental milestones, encourage social/emotional dynamics, and learn to love coming to school. While children are playing and exploring, parents participate in discussion with peers and teachers. Everyone has the opportunity to make lifelong family friends as a part of the synagogue community.

2020 SPRING SESSION: January 27 – June 4

Our Baby & Me and 2nd+ Time Moms classes provide a welcoming and safe environment for parents of our youngest children. Led by licensed psychologists and experts in child development, these classes create a supportive space, introduce pertinent discussion topics, explore developmental milestones, and include music and movement for the babies.
Baby & Me (2-12 months old): Fridays 11:00 am-12:15 pm
2nd+ Time Moms Class (2-12 months old): Mondays 9:15-10:30 am

Our Toddler classes focus on learning through inside & outside play, music & movement, art & sensory activities, and Shabbat & Jewish holiday themes. Shabbat blessings, songs, and challah are enjoyed in every class. Our experienced teachers guide parents and children through creative and exploratory time, while also leading a short discussion related to parenting and developmental milestones.
Early Toddler Class (12-16 months old): Wednesdays 9:15 – 10:45 am
Middle Toddler Class (14-19 months): Mondays 9:15-10:45 am
Older Toddler Class (19-24 months): Tuesdays 9:15 - 10:45 am
Oldest Toddler Class (22+ months): Fridays 9:15 - 10:45

Transition classes are created to build independence and ease the separation process, as children move from our Toddler classes into Preschool. We focus on age-appropriate play, social/emotional awareness, and the benefits of a predictable set of routines. Our children spend the first hour of the day with parents and teachers in the classroom; and, after several weeks of getting acclimated, Parents go to the "coffee room" during the second hour while the children remain with the teachers. Once a week, during separation time, parents will have the opportunity to hear guest speakers and childhood experts discussing relevant topics revolving around parenting, developmental milestones, challenging behaviors, and Jewish values. Our Transition program meets twice a week. *A parent or designated caregiver must stay on campus during separation time.
*Not currently running because we don't start new Nursery School classes over the Summer.

Our Grandparents Class is designed to be a special bonding time for grandparents and grandchildren. In this class, we enjoy connecting through play, projects, and Judaism. It's a wonderful place for little ones and their grandparents to explore, create, and celebrate Shabbat together every week. Grandparents enjoy meeting and talking with one another, as well.
12-24+ months old: Thursdays 9:30-11 am
Parenting Center Registration
We are excited to announce that registration for Spring 2020 is now open for all of our Parenting Center classes!
*Unfortunately, we cannot guarantee/confirm any classes until we have sufficient enrollment.
If you have any questions or inquiries, please contact:
Sari Edber
(818) 342-3840 x302

The First 36 Project
Our school is a proud participant of The First 36 Project, a ground-breaking program developed by the Simms/Mann Institute, BJE (Builders of Jewish Education), and The Jewish Federation of Greater Los Angeles. The First 36 Project provides Parent & Me facilitators with an exclusive professional development program designed to enhance their knowledge and amplify their ability to support parents of children ages 0-3. The Fellows gain access to resources developed by the Simms/Mann Institute including: a guide integrating child development theory with the most cutting-edge neuroscience research; participation in the Simms/Mann Institute Think Tank, with leading neuroscientists from around the world presenting their research in early childhood development; and access to exclusive video presentations from leading early childhood experts. In addition, Fellows participate in monthly content sessions facilitated by a child development expert, receive one-on-one coaching, and support each other in their community of practice by sharing ideas and learning from one another.
Temple Judea Early Childhood Center
5429 Lindley Ave. Tarzana, CA 91356
818.342.3840
Lisa Whitman – Early Childhood Center Director
Sari Edber- Early Childhood Center Assistant Director