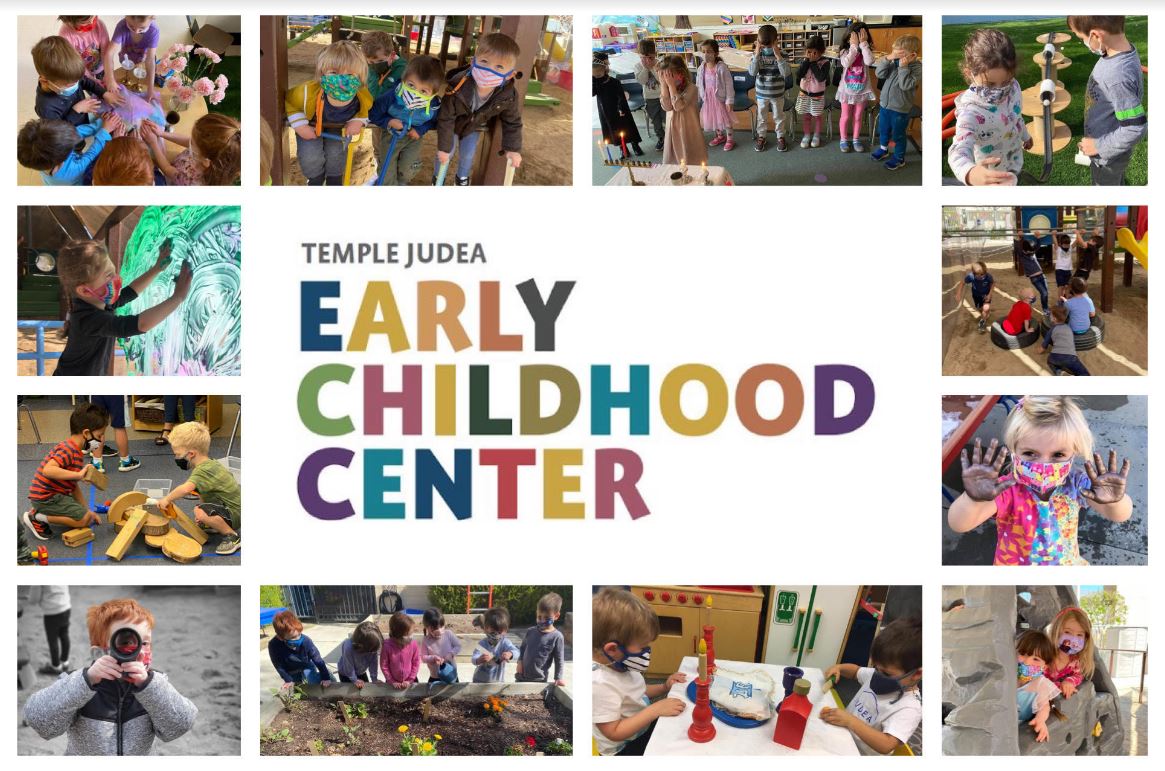 Temple Judea Nursery School is a Jewish, developmentally and academically appropriate, play-based school. We provide a positive, nurturing, safe environment in which children are encouraged to explore their feelings and learn about the world around them. A lifelong love of learning is fostered through child-centered programming including music, art, cooking, science, yoga, literature, imaginary play, and Jewish values. We celebrate many Jewish and secular holidays throughout the school year. Shabbat is a particularly special celebration each week, both in class and in the synagogue with our rabbis and cantors. We strive for each child to become successful in both individual pursuits and group social situations so that when they move on from the Temple Judea ECC, they are confident, capable, and prepared for Kindergarten.
Children are eligible for Nursery School if they turn 2 years old by September 1st for our Fall semester, or by the first day of the semester for our Spring or Summer sessions. If the age requirement is met, parents can decide, with the guidance of the ECC administration, when children should begin Nursery School. We recommend placing children in a Parenting Center Transition class the semester preceding Nursery School.
Temple Membership is a pre-requisite for enrollment in Nursery School.


These classes are a nurturing, creative introduction to Nursery School for our youngest students. Age appropriate art, music, movement, and group times will be introduced to our littlest nursery schoolers. Focus is on fostering independence, introducing classroom social interaction, and creativity. Three and five day options are available for the first semester of school.
Our Intermediate classes introduce daily rituals such as calendar, weather, and jobs for each child. We encourage responsibility, and a feeling of classroom community. Learning takes place through free exploration, art, music, movement, and both small and large group instruction. Children are introduced to yoga and cooking classes in addition to creative daily classroom activities.
*Children may spend one or two years in our Intermediate program depending on their birth date.

Gesher is a bridge between Nursery School and Kindergarten. Our oldest children focus on developmentally appropriate kindergarten readiness, and a deeper understanding of the Jewish holidays. The alphabet, numbers, and various math concepts are taught through fun and creative projects including songs, journals, letter boxes, and art projects. Gesher classes use the Handwriting Without Tears program to learn basic writing skills.
*Children must be 4 years old by September 1st in order to be eligible for Gesher.

* DUE TO COVID-19, our extended day options are from 8:00am until 4:00pm daily. children will stay with their own classroom teachers in their own classrooms for safety reasons.

*We will not be offering enrichment classes at this time.
Temple Judea Early Childhood Center
5429 Lindley Ave. Tarzana, CA 91356
818.342.3840
Lisa Whitman – Early Childhood Center Director
Sari Edber- Early Childhood Center Assistant Director