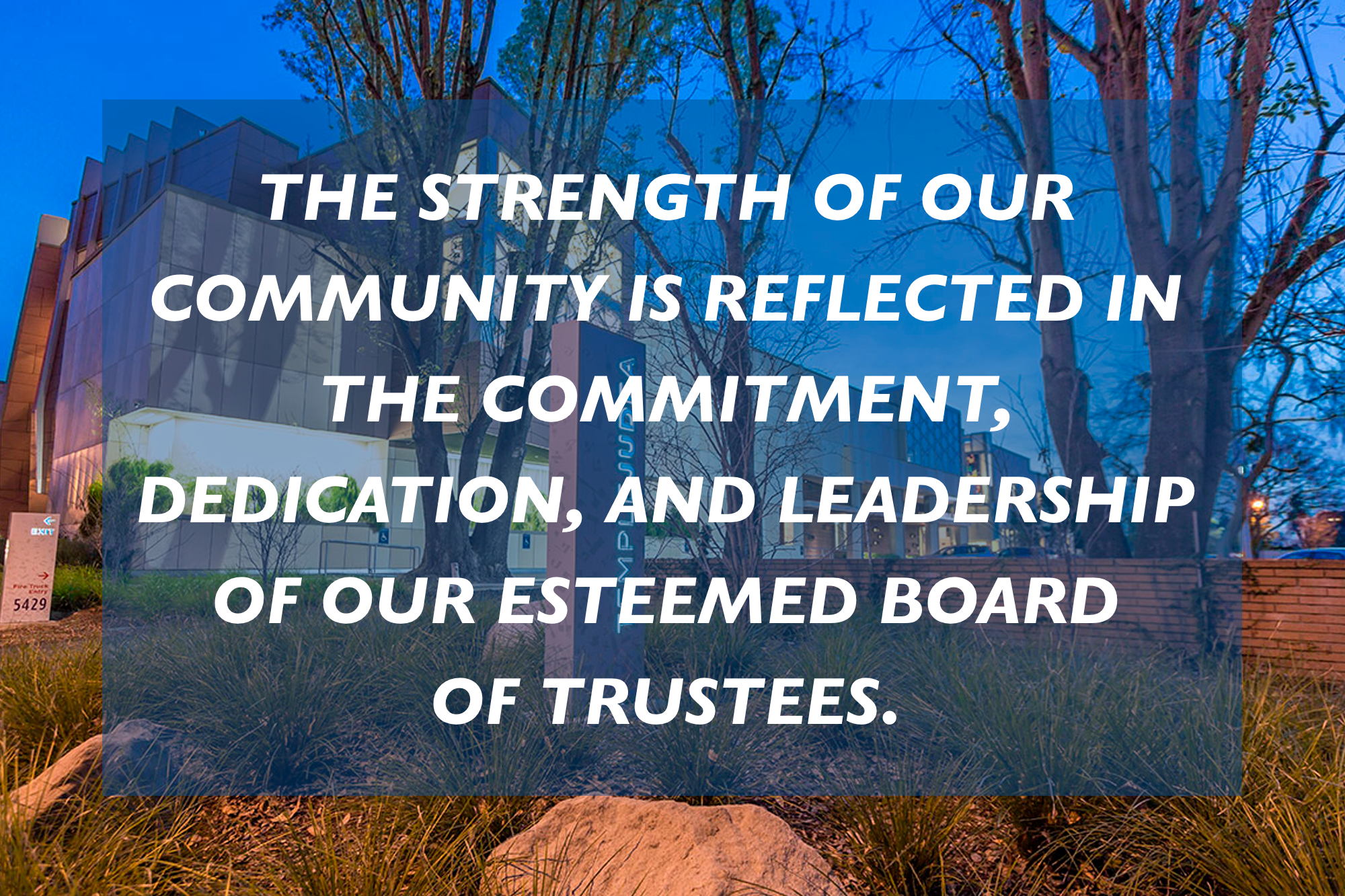 Temple Judea's Board of Trustees is comprised of a dedicated group of lay leaders elected by the congregation. As defined by the Bylaws, the job of the board is "to manage the affairs, funds and property of the Congregation."
The Board is headed by a President and an Executive Vice President. Those two individuals, along with the other Officers comprise the Temple's Executive Committee. The Executive Committee meets at least 10 times per year.
In addition to the Executive Committee, there are 12 elected trustees. Most Trustees are assigned specific responsibilities during their term in office.
The Rabbis, Cantors, Executive Director and Education Director, serve as non-voting ex-officio members of the board. Many past presidents of the congregation are active members of our community. Under the Bylaws, these past presidents serve in an advisory capacity to the board.
The Officers, Trustees and ex-officio members meet at least eight times per year. With a few exceptions, board meetings are open to the congregation. Meetings are scheduled for the second Wednesday of the month at 7pm.
2020-21
BOARD OF TRUSTEES

EXECUTIVE COMMITTEE
Gail Aspinwall , President
Dani Rogers, Executive Vice President
Greg Cohen, Vice President, Finance & Development
Brad Rosenberg, Vice President, Education
Glenn Summer, Vice President, Membership Engagement
Neil Rotter, Vice President, Membership Outreach
Karen Twersky, Vice President, Personnel
Ellen Israel, Immediate Past President
Gail Browdy

Roni Kritzberg

Judy Rutt

Kirsten Winikoff
AUXILIARIES SEND REPRESENTATIVES
Gloria Grossblatt, Women of Temple Judea
Jeffrey Hain, Brotherhood
Rachel Haft and Alison Lapidus, ECC Parents' Association
Caring Community, Ilene Blok
For the 2021-22 year, the slate of officers will be elected by the congregation at the annual meeting. This year, the annual meeting is May 12 2021 at 7pm via Zoom.
SLATE OF CANDIDATES FOR THE 2021-22 BOARD OF TRUSTEES
EXECUTIVE COMMITTEE
Bill Harris, Executive Vice President
Greg Cohen, Vice President, Finance & Development
Brad Rosenberg, Vice President, Education
Tracey Poirier, Vice President, Membership Engagement
Glenn Summer, Vice President, Personnel
Gail Aspinwall, Immediate Past President
Roni Kritzberg

Nicole Lake

Kirsten Winikoff